---
The music on Triptych Terror Oriente grew out of various performance pieces which we have been working on as early as 2014. The first part, Copper Clad Coinage, was inspired by the internet revival of dungeon synth in the early 2010es. The idea was to keep the eeriness and theatrics of black metal often found within the genre, but replacing  the medieval/high-fantasy aesthetics for the lush tropical jungles of Kiribati. In other words: Elves, goblins, and the north wind are replaced with sharks, venomous fangs, and the relentless noise of predatory birds. MAXIMUM:PLEASURE grew out of a soundtrack commission for a cyberpunk themed student film called End of Venus. Which would have chronicled an ultra-violent black-and-white suicide-run of cybernetically enhanced misfits for the entertainment of a depraved online-community. Made in the style of Tsutomu Nihei's cyberpunk/sci-fi/horror mangas and Edmund Elias Merhige's Begotten. Even though, the soundtrack was well in the making, the funding for the movie fell through and the project never saw the light of day. So we decided to put a lot of these short snippets together into one long performance piece. Exorcisme Langsung Di Dataran Minahasa was our love-song to Indonesia, since it has been like a second home to us for a long time. After much debate, we settled on the occult as the theme of the album, and combined a lot of power electronics sensibilities with the old-school sound design found in early Indonesian movies like Mystics in Bali, Queen of Black Magic, and The Devil's Sword, as well as old Wayang Kulit recordings. So by 2017 we had a lot of  new music in our hands, and after releasing An Adoration in Prayer and Ritual we were pretty sure that we wanted to take this new music on the road. We felt that would be a nice change of pace and would help us let off some steam. We had never toured before, because our music depends on a lot on the studio, and we always felt that it would not translate well onto the stage. Of course, we also didn't want to do a standard rock concert. We wanted something more theatrical and with the help of Sam Ji-Hae, we organized 5 gigs at Art Festivals. Since that gave us more room to go all out with the production.
The Tour:
Date
City/Country
Venue

13/03/2018

Gwanyong (KOR)
 Arts & Culture Festival*

13/04/2018

Ilumi, Osaka (JAP)
Samurai House*

25/04/2018 

Singapore (SG)
LASALLE College of the Arts

01/05/2018

Makassar (ID)
Fort Rotterdam*

29/05/2018

Dili (TP)
Festa Múzika

*These shows were recorded live and turned into Triptych Terror Oriente
Part I: Copper Clad Coinage
Tracklist:
1. ''Barnacle Headdress''  30:40
2. ''Island Gigantism" 24:00

Notes:
03/13/18 - SOUTH KOREA
I'm sitting on the toilet right before the show. Overcome by crippling diarrhea after eating some mighty bad chicken. It's hard to take seriously--I know. I'm ready to go now, fresh from the toilet, but we've been just told that our show doesn't start until 11:30 because people are still coming in. That is another hour of torture. The whole things was a bit of a bad idea to begin with. Just take some laptops and midi-controller and leave for a country nearby. Traveling lightly - not many costs, yada yada... It sounded like a good thing at the time, but now that it is actually happening we are pretty spooked.
04/05/18 - SOUTH KOREA
I haven't written in this book for a few weeks and now it's going to be impossible to catch up. Too much time has been spent wallowing in self-doubt and gasoline bills. We are studio creatures and South Korea has been our first live gig. We brought some intermission music to set the mood for our show, asked if we could hook up Jens' fog machine or a video playing behind us. But no, no, no - South Korea keeps it minimal. No building anticipation, no mystery, no nothing. Just real people playing real music on a stage - just perfect for an exotica act. J. went into the pit to check out what is going on and came back with bad news. An audience of 200 to 300 sweaty people, rubbing elbows together for over half an hour, and some of them pathetically drunk - again, the absolute worst setting for ambient music. The audience seemed to take it personally that they had to wait and treated us accordingly. As soon as they realized that there wouldn't be a danceable drum beat, the heckling started. Never before had I been such an ugly foreigner and never before had I been yelled off a stage. We played for five minutes until we stopped, and for a moment we felt like losers, crawling out of the sea, looking for mommy's tit. M. had the bright idea of antagonizing the audience and managed to actually bring some drunk hecklers up to the stage after a whole twenty minutes of banter. He made them do bird calls while we continued the piece. An ashamed Sam had to provide the translation and was visibly happy when it was over. There were now three elderly drunk guys on stage with us, doing bird calls and calling out to their friends. One of them taunted M. with a chicken dance and quickly caught a cup of water in the face. That was promptly returned by kicks against the podium which held M's gear. A thing which should have been a moody fog drenched experience turned into autistic performance comedy. I hated it. Two of the drunks eventually ran out of steam and left, but the kicking guy just wouldn't let up and it turned into a whole pissing match. Still standing in front of the podium he taunted M. with over the top bird calls, more chicken dancing and eventually flipping the bird into M's face, who all the while kept playing keyboard while returning the middle finger. And eventually it was over. I wouldn't say the audience liked it, but they respected us for our drunkard management skills. The music turned out much rougher and harder than intended, since the adrenalin rush of the whole thing put us on edge.
Credits:
Sam Ji-Hae - Executive Producer, Eric S. Teeter - Sound Engineer, Executive Producer; Camera by Li Na P'an and Jens Barth

William Gaunt - Cover Graphics; Katusuko Takata - Sound Mixed and Mastered by Sterling Sounds, Pearl City, HI.
Released by Hyperbeast Records MMXIX
Part II: MAXIMUM:PLEASURE

Tracklist:
1. ''Super Hot Fluids Pt. 1" 33:04
Notes:
5/15/18 - JAPAN
Definitely the most expansive and high class part of the tour. Including a lot of paperwork for visas as well as all around living expenses. Legend has it that if you are visiting Mt. Fuji on a moonless night and stay, oh so very, very quiet you can still hear our bank accounts screaming. The show however was awesome. The piece we planned for Japan demanded some additional instruments, and we started to borrow some guitars, bass, pedals from the other acts that were performing with us. So we went to other acts after they were done talking them into borrowing some of their stuff. Once we had our gear together we felt confident and were ready to burn the house down, we were relaxed and had quite a spring in our step.
The other acts spanned a wide variety of genres including two student big bands of which some performers joined us later. Since as the day continued a continuous drop in audience numbers was noticeable. Many people left the Samurai-Stage to view other acts in the city center. So how many people would be left once we play? The feeling of panic started to creep into us again, and we talked to some other performers that confirmed our fears.  When it was time for our set, only two people were left. Fuck. We send out J. to buy us some time with a fake sound check. So we walked around backstage asking people to join us in something like an improvised live jam. Since there wasn't much of an audience left to embarrass yourself, and we apparently seemed nice enough, some of them actually went for it and soon we had something like a mini orchestra on our hands. When we were ready even the last two people had left, and we just played for ourselves, having the time of our lives. We practiced a few minutes to rag-tag orchestra eventually fell into a groove. Pretentious - yes, financially sound - no, but worth it.
Credits:
Featuring the almighty UDDOTOCHI-OKESTORA:
Roger E. Gerlach - Concertmaster, Bruno Azevedo Oliveira - Violin I, Dolores Loera - Violin II, Agniszka Lu - Violin III, Fraya Walton - Viola, David K. Conroy - Piano, Lyubov Solovyova - Cello, Andre Baumle - Bass, Pamela S. Tarver - Flute, Yumia Adachi - Oboe, Ayana Kouyama - English Horn, Summer Perkins - Bass Clarinet, Taigo Tsukada - Basoon, Motoaki Morita - Contrabasoon, Sayoka Nii - French Horn, Ren Nagao - Trumpet, Kaede Sanya - Trombone, Quynh The Tang - Bass Trombone, Da-Xia Tao - Tuba, Fumihko Shizaki - Percussion I, Michiaki Oka - Percussion II, Wendy Castillo - Marimba, Guan-Yin Pai - Harp

Performed Live at Cumi Fumoto Samurai House in 2018.
Additional Personnel: Sam Ji-Hae - Executive Producer, Eric S. Teeter - Sound Engineer, Executive Producer; Li Na P'an - Camera; Jens Barth - Camera, William Gaunt - Cover Graphics; Katusuko Takata - Sound.
Mixed and Mastered by Sterling Sounds, Pearl City, HI
Released by Hyperbeast Records MMXIX
Part III: Exorcisme Langsung Di Dataran Minahasa
Tracklist:
1. "God, Weep for the Devil-Charmer!" 25:06
2. "Certain Death Hell-star! / The Challenge of 66 Daggers" 14:11
Notes:
05/15/18 - INDONESIA
Ah Makassar, gateway to the Indonesian East - too beautiful for a bad show. We played in a parking lot, with cars and motorcycles rushing by only a few meters away from the stage. And in between the audience were very vocal salesman for food, drinks and souvenirs, who advertised their products energetic shouts and improvised rattles - which were of course much appreciated during the quiet moments of a performance. Thank God Sam warned us in advance, and we recorded everything directly from the amplifiers. Apart from the chaotic surroundings, the festival crew did a good job. The venue took place against the backdrop of an old Dutch colonial fortress. With the stage directly in front of a huge, moss-covered wall of large eroding boulders - definitely the visual highlight of the show.
The other acts consisted mainly of traditional music, Gamelan orchestras, idol singers with lots of make-up and a few rock bands. Before the show the usual effort: Charming people for their equipment: Borrowing guitars, cables, pedals - the usual. After our positive experiences in Japan, we thought we could even get our hands on a drum or even a nice Gamelan set, but no dice.  So the mantra of our show became "LOOK AT MY FOOT! LOOK AT MY DAMN FOOT!" We wanted the drums to accompany the basic rhythm of the oscillators, but we had to cut it. Without anything to play with, J. just stuck together a couple of sound makers (including a cactus from Sam's aunt) and kept busy. During the show a special guest entered the stage... the legendary traditional Makassar fish market. This damn fish market has the tendency to become a character in your life. Sometimes the source of great pleasure when one can buy fresh fish and sometimes a villainous dick when you're hit by the terror of his carnivorous odor. It has happened to us twice since our arrival. And, of course, halfway through the set the wind changed, and we were hit by a wall of anchovies. Everyone gagged and concentrated even more on my foot to block out the smell - mouth breathing through the night. Even though we felt the show was bad, since nothing went according to plan. The Audience seemed to like it: A few enthusiasts and drug addicts spazzed through the show, students sat on the floor snapping their fingers in approval, and there was a general feeling of restraint approval and curiosity. Much love to everyone. When we can back to the van we found our fridge raided by one of the local rock bands. But all in all, we are all tired now. Tired of the all the hubbub of improvising and scrambling equipment together for every show. Looking forward for the video installation in Timor. Set up, hit play & done.
*Addendum: Later we listened to the recorded material, and realized it sounded much better without the drums, so our happiness was restored.
Credits:
Performed live at the Archipelago Arts & Culture Festival at Fort Rotterdam, Makassar 2018.
Tjanorawinatata Lei - Executive Producer; Sound Engineer - Ezenjel Saoao; Cover Graphics - Katusuko Takata and Luca Wonoung; Sound - Wongsojoto Meilen
Mixed and Mastered by Sterling Sounds, Pearl City, HI.
Released by Hyperbeast Records MMXIX
Interview: PUSH Magazine, Autum 2019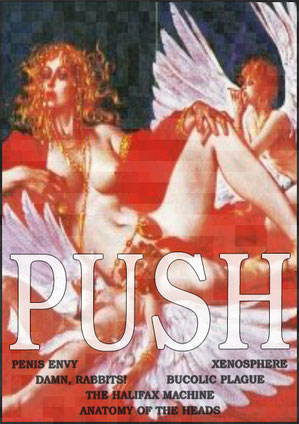 As you know we like to do our Interviews in a fun, light-hearted, way to get to know the people behind the music a bit more - as talking about music is like dancing about architecture. Today we bring you Anatomy of the Heads a relatively new band, even though they have been playing music together since 2011. They released their debut album in 2017 and it would win any award dedicated to individualism and eclecticism. They combine elements of exotica and noise to create their own brand of experimental rock called Kraton - the place where kings dwell. Meet the only band in Kiribati - Anatomy of the Heads.
N.V.: Okay let's start with the formalities - Name?

Van Gore: Michael van Gore
J.H.: J.H.
N.V.: Occupation?
Van Gore: Professional esthetician and interior decorator
J.H.: Lawn-Gnome
N.V.: Marital Status?
Van Gore: NON OF YOUR BUSINESS
J.H.: I am just in love with the salt and the sea
N.V.: Zodiac Sign?
Van Gore: Extra-virgin of course
N.V.: Like the oil?
Van Gore: Yes, just like the oil.
N.V.: How about you?
J.H.: I think of myself as a pisces, but I am actually a Taurus

N.V.: …What a Taurus thing to say. Anyway, let's get down to business. As Anatomy of the Heads you make pretty weird music. Your debut album An Adoration in Prayer and Ritual contains three long tracks that change genre as frequently as normal people change their underwear. One can't help but wonder what kind of stuff do you two listen to? … Just so you know my guess would be something obscure but rockish.

Van Gore: Do we look like we're using beard oils?
J.H.: This baby (points at his beard) is all natural. No oil or little combs needed, you know?
Van Gore: But yeah something rockish most of the time - like Danzig, Captain Beefheart, CCR - the classics. But Steely Dan is the baseline for me. My go-to band when I am in the mood for nonspecific music.
J.H.: Currently Deerhoof, Thee Oh Sees, King Gizzard and the Lizard Wizard, Tool and a lot of bands I see live or know people playing in.
Van Gore: But I wouldn't box us into the whole rock thing. We both listen to plenty other genres. Just because we like distorted guitar here and there doesn't make us Rock and Rollers.

N.V.:  What kind of music do you put on to set the mood to charm or entertaining a (potential) lover?

J.H.: I once got lucky playing "La Cucaracha", but I guess that is highly situational
Van Gore: Classic Hard-rock ballads of the 80es to make fun of large hair
J.H.: Oh yeah, having a Youtube-party is always a good way to get touchy.
Van Gore: Uhhhh Loverboy wants to get touchy - feeling brave
J.H.: I mean I got her on the house already, so why not
Van Gore: Yes, word on the street is that she likes you.
J.H.: What can I say, I am a lucky guy.
Van Gore: Word on the street is also that you got a child out of wedlock and once bought a BMW to impress a girl.
J.H.: Those crazy hippies and their jive-talk. You can't take them seriously.
Van Gore: Yeah, those crazy hippy kids and their socialist propaganda.

N.V.: Speaking of Jive-talk, let's talk about your roots. Who has inspired you to do what you are doing?

Van Gore: Oh, we steal from everybody. Sun Ra, Merzbow, King Crimson, Miles Davis, the Melvins - you name it.
J.H.: I always liked Death from Above.
Van Gore: I also partially credit the outrage of my friend Adi's mom, who wanted to exorcise us once she heard our music for the first time.
J.H.:  Fact is, I grew up in a village with nothing much to do you know? Except agriculture.
Van Gore: Were there dirty hoes?
J.H.:  Yes, agriculture is full of dirty hoes. Some of them become so used up that they become cracked.
Van Gore: So they become dirty crack hoes?
J.H.: Exactly, you are supposed to create your own entertainment. And we did, me and my friends got together and created a little music scene in our village.
Van Gore: I am from the city, so I can not relate with your backwards ways. I just saw Slayer on MTV and thought: Well, that would be a cool thing to do.

N.V.: Pure romance. Name three bands that you would clear your calendar to go see if they were passing through your town.

Van Gore: Hahaha, where we live, really no band is stopping by. 
J.H.: Maybe the occasional Beach Boys cover band.

N.V.: But just hypothetical…

Van Gore: I would totally clear my schedule for the resurrection of Glen Miller, Elvis or the Rat Pack. I am to lazy now for rock concerts. I like my music with a dinner, thank you very much.
J.H.: I didn't know that we could nominate dead people?
Van Gore: Don Hoe
J.H.: And there we are again.
Van Gore: Yes, the hoe has become full circle. She started out in a hardware store, worked the fields, became hooked on crack and turned into Hawaiian Elvis.
J.H.: A hero's journey
Van Gore: I could totally go for Journey concert, if anyone got a lighter. My point is I am not that crazy about live performances and I like my schedule. So, I wouldn't really clear my schedule for anyone.
J.H.: Tower of Power and Dinosaur Jr. are on my bucket list this year.

N.V.: What would be the ultimate Anatomy of the Heads concert, describe it to me!

J.H.: The highly conceptional concert drama of The Residents, combined with the theatrics of GWAR and the pyrotechnics team of Kiss.
Van Gore: That means that we would play at the black pyramid in Cairo during a full moon night on a numerically significant date determined through scyring. In preperation we'd sacrifice a goat to the Moon and begin the show by leading a procession of moon-drunk fans and astonished bystanders through a night of adorations and prayer. Each melody becoming a swift celestial fragments of music, streaking across the vacuum of space to nowhere in particular. Becoming meteors and comets - the wanderers of space. Heading out into solar system and beyond - to wander, to burn, and impact.
J.H.: Yes, we are going to destroy the moon.
Van Gore: Big finish.
J.H.: But now that you know our plan…you have to die Mr. Veit.

N.V.: Have you ever dreamed of being a Bond-villain?

Van Gore: It has been my dream since childhood.

N.V.: Who would be the opening act, any takers?

Van Gore: I can tell you who it wouldn't be: Bohren and the Club of Gore. I came close to see them two times already in Europe, but each time something horrible happened. First time I got the flue. Second time the train split and I ended up in another city and had to hang out in McDonald's for like seven hours. I tell you they are cursed. Cursed I tell you. CURSED!
J.H.: We are open for anything. But we probably would not have an opening act in the first place. Maybe a partnering band that would play with us as a big band, maybe the Inspired School Of Astral Music or the Satanique Samba Trio.
Van Gore: But keep in mind we are not that much of a live band anyway. We are really a studio band. Playing live only happens on our terms and only if we are really really really in the mood to do it. Otherwise, we just have too much fun behind looked doors.

N.V.: What do you like people to do at an Anatomy of the Heads show most: mosh, sing along in case you ever have lyrics, or hold up posters that say "I want your Baby"?

Van Gore: Listening to the music.
J.H.: Yeah!
Van Gore: That is what is all about. We would also like to do listening parties. Whit personal headphones, comfort, and a fully stacked bar.
J.H.: Beanbags and waterbeds all the way.
Van Gore: Maybe we should start playing retirement communities.

N.V.: Okay so you will eventually blow up the moon and go to jail. There is no doubt about it. What would you want for your last meal?

Van Gore: Pizza Hawaii and a Coke.
J.H.: Some nice fettuccine alfredo and ice-cold beer would do the trick.

N.V.: I have to say, you dress well - care to pass along a style tip to our readers?
 
Van Gore: Buy suites. As soon as you have some money to spend. Get your self a tailor made suite. Stop dressing like a high-schooler at 25 the latest. If you live somewhere where tailor made suites are expansive to make. Go to a tailor and get your measurements and use the power of the internet to find a place that can make you that suite for cheap China, Bangladesh, Indonesia - they love the business, the prices are to die for. If you can wait for six weeks of shipping you got yourself a deal.
J.H.: That was awfully specific. I think what he meant was plug your merch.
Van Gore: Oh.
J.H.: Anyway are now selling merch. Album covers and the like, but we will also offer limited runs of designs. To make them more unique. Maybe even some bags.

N.V.:  Anything else?

Van Gore: Don't shy away from real fur coats or animal leather. Believe they are out of this world. Don't care about the whole PETA crap.
J.H.:  …and shave your armpits.

Words of wisdom. Thank you gentleman. Anatomy of the Heads - Triptych Terror Oriente out now and their debut An Adoration in Prayer and Ritual still out, on Hyperbeast Records. Niclas Veit
Interview: DEATH PIT, NO. 8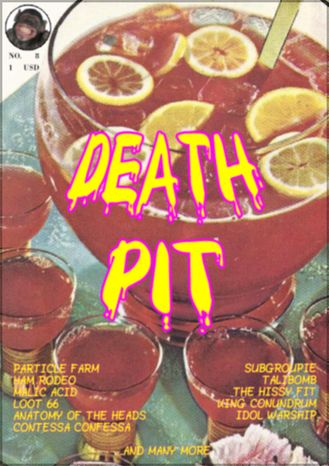 Today, I talk to the only band of Kiribati (in defiance of any logic pronounced Ki-ri-bass) fresh after their release of Triptych Terror Oriente a collection of three live records that contain new music from the band. I have been following them since their debut release in 2017 of which, as the loyal reader knows I am very fond off, so after a bit of planning we actually got the chance to meet up.

MD: I don't know what to ask.

JR: How are you? What does your band name mean? Who inspired you? Name a few bands you are into right now? - Those seem to be the standards
VG: Just breath… and let the words flow
MD: uhm…alright
JR: You see, I don't like French people
MD: No? Why not?
VG: He was traumatized by a baguette once
JR: Baguettes raped my father and killed my mother
MD: Well, that's no excuse to hate all French people
VG: Yes, Jay you fascist
JH: It is a scientific fact that all French males are baguettes and the females are croissants.
JR: See, science got my back on this one
MD: The debate is settled.
JH: I like croissants with raisins, though.
VG: Yeah, but that is as French as kangaroos
JH: How so?
JR: You unsophisticated pig, it is too sweet. Don't you have any taste buds? Where is the cheese? It needs something sour and bitter to be consumable, doofus!
VG: See, that is the true reason we hate the French. We eat like three-year-olds. We are like a medieval nobles that order peasants around and wave deep-fried chicken legs.
MD: Talking about sweets, you ever had blueberry milk?
VG: The Bulgarian blueberry milk? That is the bomb with a pandan sarikaya sandwich.
MD: What's a sarikaya?
JH: Oh, that stuff is awesome, its like an avocado but sweat. People make yam out of it.
JR: I usually drink three packs of ultra milk a day, only mocha though.
VG: You can't find that around here. Time for rehab.
JR: I am pretty sure I can find it at the airport.
JH: Yeah, but you are not going to go to the airport every day to get your ultra milk fix.
JR: Watch me!

MD: Okay fat people, let's talk music - any bands that you're into right now?

VG: I don't know. I don't really follow bands, just single records. But there is a Band called Truus - they had a album called Ritualis in 2009
MD: 2009? That was ten years ago, how about something current
VG: Ahhhhhhhhhhhhh……No
JH: I liked the new swans release. Always looking forward to the stuff they do, since they released the album with the animal head on the cover.
JR: Yeah, Swans, the new Tool, Abbath, King Gizzard & the Lizard Wizard, The Flaming Lips, Lightning Bolt, Sunn O)))
JH: Anything come to mind yet, grandpa?
VG: …Nope, I am still stuck in the pre-millenium. There is just so much old stuff to discover. Currently, I'm listening to a young whippersnapper named   
Buck Owens.
JR: Urgh, that "four classic album"-sets, those are terribly put together. Without any regard for the original material. You just like them because they are cheap as hell.
JH: That's because his ancestors were Jewish and Chinese
JR: You are the greediest person on the planet Michael
VG: And proud of it.
MD: How come you don't do any covers of any band new and old - I could imagine some Buck Owens or Swans going well with your type of music?
VG: We don't know any.
JH: Well, there is this Queen thing
JR: Yeah, but that is just for a second
JH: True
VG: According to some we are an Emerson, Lake & Palmer cover band
JR: No, we are ELP. Our next record will be one sixty minute track
JH: Huzzah!
JR: Huzzah!
JH: We should hire a flutist.
VG: A Peacock's Tale in the Big Top Where Trapez Artists and Clowns Wage Battle in Glass Tears in G Minor
MD: Will there be a mellotron?
VG: No, but we'll do monkey chants
JR: We have hours of that on record. It's pretty wild stuff.
JH: The Tantric Choir of Divine Salvation in a Perpetual Mystical Macrocosm
VG: Nice use of black metal there.
JR: Stop your archeology - peasant!
JH: We actually saw them live in Germany. They were great. Only two people, but they do it better than most large bands.
MD: I am lost.
JH: Inquisition - a black metal band
JR: They send shivers up my spine, way more than any other band has ever done.
VG: You bore me, let's move on. Next question please!

MD: How do you feel about moving to Mount Pleasant?

VG: I think it was great.
JR: There was literally nothing here.
JH: It was good place to work. Suburban heaven.
JR: Yeah, we are not the types who do the LA or Hon Kong thing. I mean any big city. They're all the same.
MD: Well, not really.
JH: Plus immigration was a bitch, anyway. So, hanging out in a quite small town was just what the doctor called for.
VG: It is a pure work thing, in a year we are gone again and probably split into different locations
JH: All this traveling is literally taking years off my life, that's no lie. It's just ridiculous when I compare myself to my parents. I can't wait to settle down.
JR: No more living off of a laptop.
VG: Culturally it has its advantages though, I mean if I hadn't been like nomads we wouldn't have seen the monkey chants.
JH: True, true.
MD: How does that influence the way you do music?
JH: Well, we send files around everyone adds to it. Michael, as the dictator he is, adds and takes away stuff. And at one point he says it is done.
JR: The recording process becomes more introspective.
JH: How do you mean?
JR: There is no direct competition between us. Nobody tries to impress the other, which would usually be the group dynamic that would develop if we hang out together in a studio.
JH: Yeah, that's a good point. I agree fully.

MD: My friend Shino saw you in Singapore, and he said he didn't really understand what I saw in you, which was really disappointing.
VG: Well, you can't win them all. But yeah, Singapore was rough. We basically had a video installation and that didn't fly well with the crowd.
JR: Yeah, they were a bit like "show us what you got" and were disappointed when we set up a video.
MD: Uh, uh...
JR: How's your magazine doing?
MD: It's doing pretty well I guess.
JR: Selling lots of copies?
MD: Nope.
JR: Giving away lots of copies?
MD: Yup. That's my big marketing strategy. I print around a hundred of them, and give them all away. That's pretty much it.
JR: Sounds like us.

MD: Anything else?

VG: Get our new record Triptych Terror Oriente, which are three live records. Each one containing unique and never before heard pieces of music and look forward to our next studio record in 2020.
MD: Oh geez, that's stuff I should have asked you about.
---
Tracklist:
1. ''Roman Numeral no.1 - Trio Phantasma'' 09:24

2. ''Roman Numeral no.2 - Cubenga:Volcano God'' 06:22

3. ''Roman Numeral no.3 - Shepherd's Firth Infirmary'' 13:08

Liner Notes by my Psychiatrist:
I imagine it to be loud and angry - wild and disharmonic - saying a lot without being understood. In fact, it's not supposed to be understood. It's communication in an incomprehensible language, so its inhabitants can show without being seen. All the while hoping for the few that can understand and see. Hoping to show their treasures, all their treasures that belong to them - and just them. To let them see and be awestruck.
It's a place for colossal boys, with soft features, wild hair and their mysteries. Sometimes, I look at them and wonder what their eyes see and their souls translate when we look upon the same affair, and I wonder what they see when they look at me...and sometimes I fear their judgment. They are sensitive, brooding, melancholic, hurt ...and I can just imagine them in their hiding place, removed from the world and its ways. Full well knowing their anger is just there to ease the pain.
I don't know how often they realize their solitude or feel alone, but I can sense their hunger for a person to reach them.
And sometimes I think I can hear them calling.

Heavy, melancholic...calculated
Track-By-Track Commentary:
More than three years in the making, "An Adoration Prayer and Ritual" was Anatomy of the Heads first official release of Hyperbest Records issued in 2017. Recorded in a home studio (The Primate Compound), the pieces on this album were constructed from recordings dating all the way back to 2011 using tape manipulation, loops, found sound and conventional instruments to describe characters, places, and covert observations of an imaginary island. There's a lot of other material from this era that was never finished for one reason or another. Although we did not have a detailed preconceived storyline, the songs seem to create a picture show for the listener. Our personal catalog of images and scenarios would go something like this.....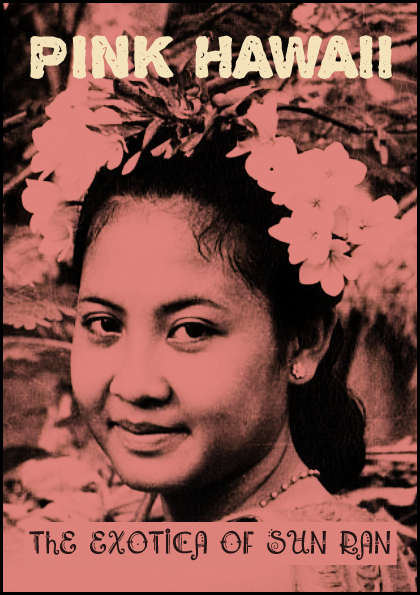 Roman Numeral No. 1 - Trio Phantasma
1) Trip to the Batcave - Hula Girl Aloha-He
Imagine stranded, on a white beach scene. Where the ocean kisses lush palm trees and bamboo-villages. You gather your coconuts and your seashells and head to the village for a cool drink and some food. You march past the dunes of white sand, where neon-lit nomads and other dubious characters offer their finest spices, gold, frivolous entertainment and everlasting enlightenment. You take it step by step and are bombarded by different smell, sights and sound. Oppressive jasmine, pure silk, smiling jade, man-eating flowers and bush-meat awaken your desires. You visit a few stores, the bearded lady, and other sleazy establishments, but fail to realize until the last minute that no one likes a coconut.
Notes:
This track is quite fragmented and consists mainly of a duet for guitar and bass with a very prominent vibraslap to accentuate the action. The high level of fragmentation is achieved through the continuous layering over overdubs and their partly removal, until only a very skeletal but fragmented composition remains that mimics a stroll through a bustling and hectic marketplace that only seems inviting to the most hardened of shoppers. The music video made for 'Trip to the Batcave' is an expression if exactly these types of sentiments, as it depicts daily live with all its facets of long gone bye Balinese village.
2) Complete Permutation of G7#9 (Live at the Sands)
The marketplace falls silent, incense and coffee beans clear the air. No more iterations, no more haggling, no more turmoil - the monks have arrived. Their procession is ugly, but graceful. Their words preach about freedom in desolation, and their aim is to grace your ears in velvet shroud. They begin to play and some lost souls heed their call. Demonic to some angel to others, the marketplace rests in tribute. Enthusiasts of self-doubt explode in spasmodic prayers and cry upon the priests' feet. Offering their fertility and passion to their ancient gods. Ugly, but graceful they mount their camels and disappear with their bounty as silently as they have appeared. Leaving only the smell of coffee in their trail.
Notes:
This is the only song we actually wrote down note by note, and it turned out just they we heard it in our heads. As the name suggests the whole piece is based on permutation of a chord. Although commonplace, the specific technique we used to generate permutation can be found in volume two of Joseph Schillinger's Schillinger System of Musical Composition (1978) that was used by Glenn Miller and Benny Goodman. After that we composed multiple lines of melody that rhythmically interlock and break with the permutation pattern to either emphasize harmony or rhythm. The drums were the only thing that were created through multiple takes of spontaneous improvisation.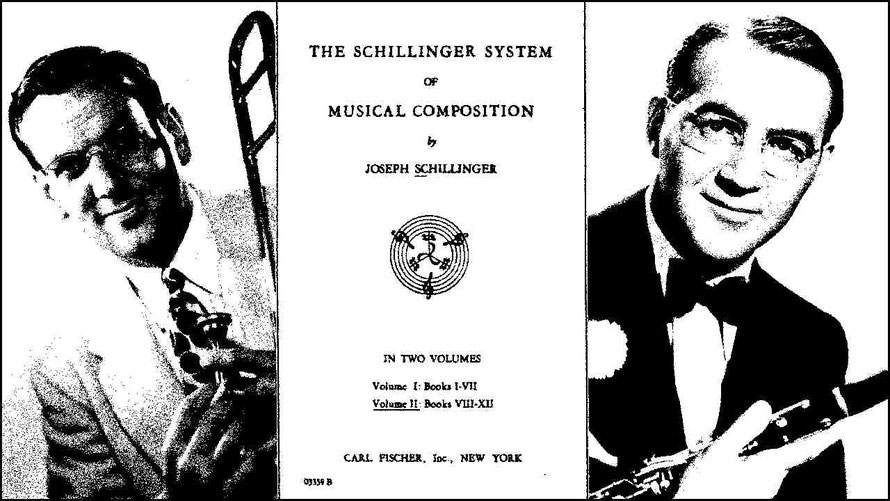 Doomsday monks invading market places is also just what the video is depicting. The music video shows people of the Rajneesh movement practicing something called Dynamic Meditation™, which leads the practitioners through multiple stages of physical activity and silence following the credo "Let whatever happens happen - whatever you feel do it, do it!" Acts of violence and rape are not uncommon during these practices. Michael even had a run in with them as they descended upon his city in the late 90es, but that is a story for another time. The only thing we changed from the original footage was the cult leader, whom we dumped for the cult leader of our hearts horror-icon Bela Lugosi (better known as Dracula) from his most hypnotic movie White Zombie (1932). When the album was released in 2017 we even held a contest for people to send the Lugosis in the video and win a prize. No one ever guessed right. The right answer is, of course, 22.
3) Toki-Oh-Basement-Transmissions at 0.8 Hz
Fallen on hard times you discard your coconuts and seashells. You give up on your grand illusions of cornucopian live of fulfilled desires you descent into the unseen crevices of island life with a broken heart. Live like the bugs and caterpillars! Live under a stone and let your resentment grow! Become part of the underworld! The markets trash shall be their pleasure. Enter the radio! Your only companion in hard times ahead and curious object of desire, as only solving the enigma of radio waves will set you free.
Notes:
For us this track represents much more than a nice story, as it was made with a tedious technique called data-bending, in which an audio file is opened as a .JPG modulated and then returned to an audio file. Opening any audio file as a .JPG will result in a visual representation of binary code - meaning it is just a fine-grained collection of black and white pixels. The sound of the audio can then be modulated by drawing in this visual representation. Which results in glitches, skips, speedups and slowdowns and other interesting glitches and even break the file completely. If the file breaks or not depends largely on the placing of any drawings - too high or low destroys the header of the file and it cannot be read properly. Since the files are technically damaged during the process. Opening them up in a DAW can be hard. Once a data-bended file was created, the audio had to be re-recorded into a fully functional file to be able to work with it. We created 50 different files to have a broad range of glitches to work with - it paid off in a big way, but it was a long and tedious process. The audio that used for this piece came from a segment of 1975es The Super Inframan - The First Superhero movie of China! Because the movie features a wild sound - design for the fight scene with little to no music. Ideal for an electroacoustic piece.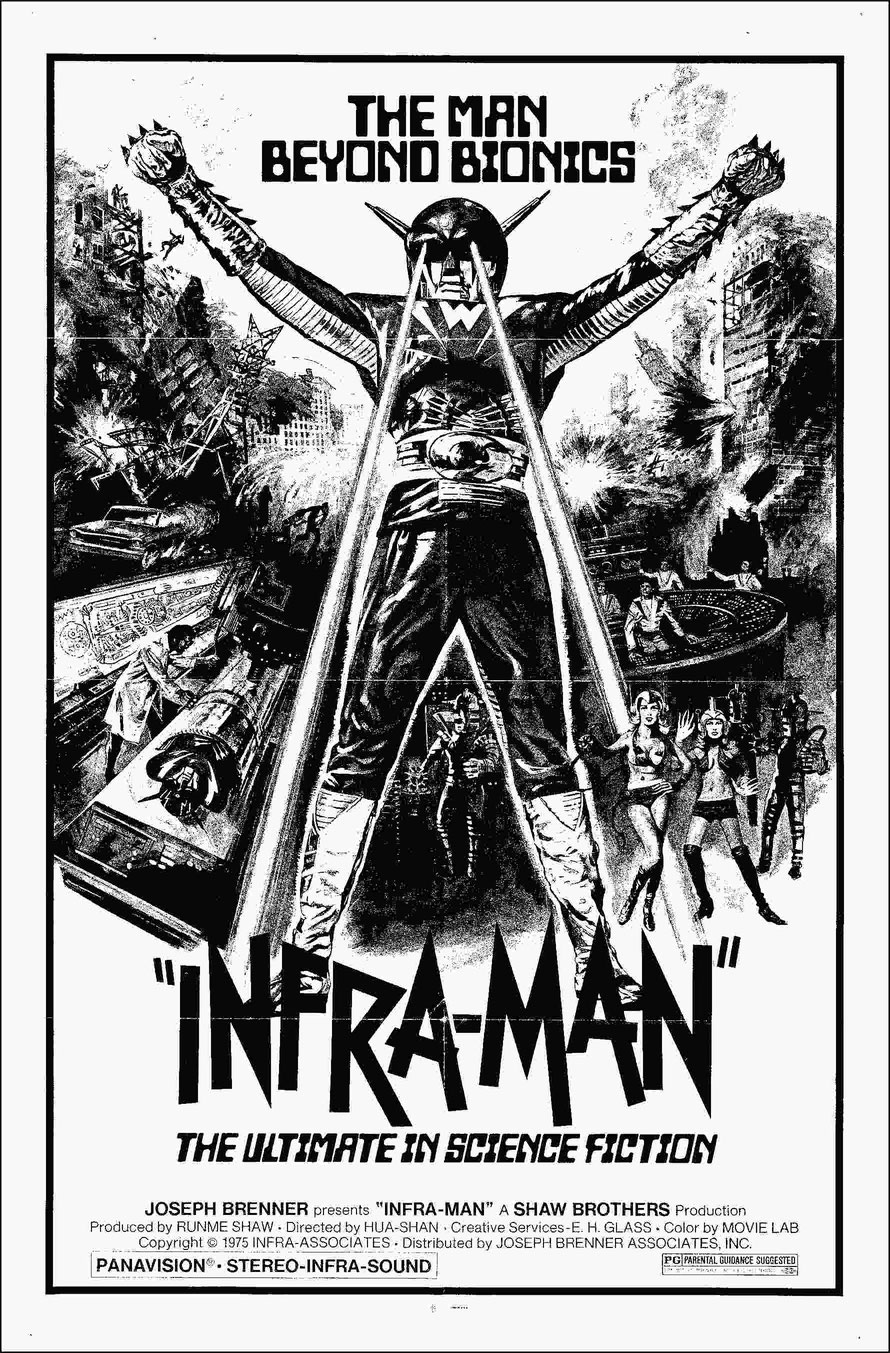 It was just another way to try something new. Once we had a basic idea for what the track is going to be like. We recorded some more sounds and noises to extend the musical palette even more. The music video primarily consists of scenes that showcase the visual capacities of early CAD drawing programs (such as the 'Graphic 1' computer system of Bell Telephone Laboratories), but it also plays up the Tokyo part of the title, and includes scenes from the hyper-violent anime Genocyber that are cut, glitches, and deformed in a rhythmic way to accentuate and make sense of the otherwise otherworldly music created through data-bending.
Roman Numeral No. 2 - Cubenge:Volcano God
1) A Dance of Intrigue and Seduction (Blue Dolphine Ball-Room 1893 AD)
The lure of the radio. The message in the white noise. The secret behind the veil - it has been revealed and it is oh so hard to swallow. The end of this world is here. No more islands, no markets, no more coconuts - so is the will of the volcano gods. The bad news drags you down as you sit among the insect people, getting high on fermented banana. A sense of urgency overcomes you. You mount your lowly centipede-steed and head towards the chief residing in the big hut above the market. But, you are too late. The dance of the merry monarchs has begun. The monarchs of the big hut join hands as creative destruction is the way of this world. Cubengea awakes and his birth cry announces death upon all.
Notes:
This features also Gristoph Gotsch on bass, who is another on-off early contributor. There exists a lot more recordings of his melodic bass playing that never got finished. By now we have lost complete contact with him and settled on J.H. bass who incidentally learned to play bass from the same teacher as Gotsch. So the melodic funk bass wasn't lost, it just grew a beard. Aside from the lineup change, this piece features one of our best playing and grew out of a guitar-solo which we recorded and slowed down to about two minutes and used as a basis for the song. So it is a guitar solo accentuated with more guitar solos and other instruments. This is a technique we often utilize. While it is satisfying to play a fast solo flawlessly it can be magical to it slow down and treat it like a speed-up song. The most intricate rhythms and phrases can be created in this way. The Blue Dolphin Ballroom is a purely imaginary place, mirroring the old-timey Tiki inspired dinner-entertainment places, which would be the perfect place for us to play this type of number. The addition of 1893 AD has been basically just there because it rhymes and to pay homage to 1966es One million years B.C. An indispensable documentary on the prehistoric history of humanity that reminds us that all cavewomen were drop-dead gorgeous babes dressed in fur-bikinis that invented mascara.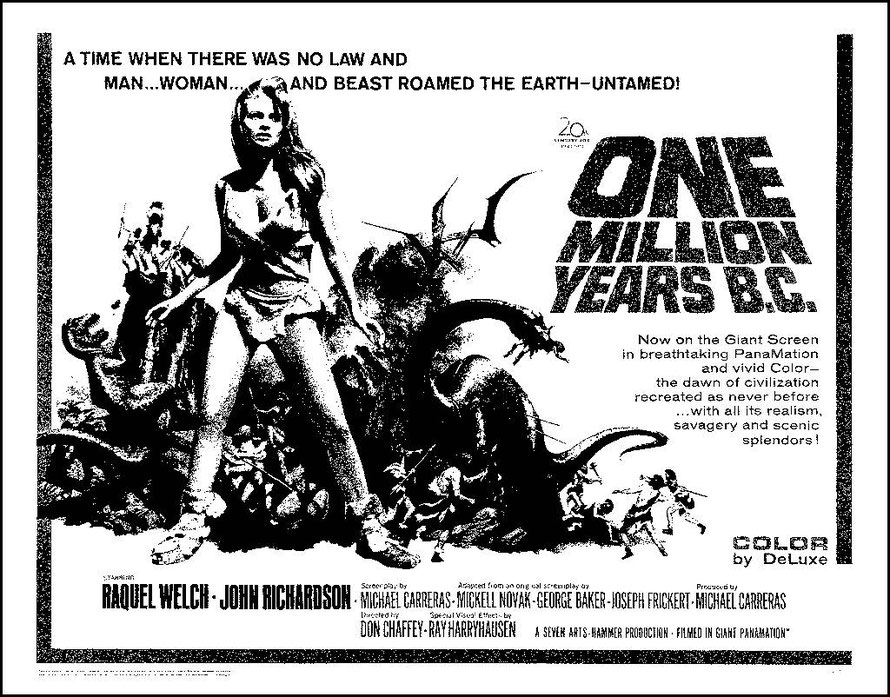 2) The Awakening of Cubenga:Volcano God
Experience the reign of Cubenga! Azure skies are covered in ash, his fiery demons taking the land and destruction reigns supreme. You die coughing and can see Cubenga towering in the mountains. The more of you leaves this world, the clearer you can hear his call. "Be gone! Be gone all of you. Be gone, so it can start anew." Even Though it is the voice of a thousand beasts rending meat. There is no anger in Cubengas voice, nor remorse, or exciting - there is just death. Cubenga now resides in your lungs and you have left this world according to his request.
Notes:
But just what is Cubenga? In search for a Volcano God, we went beyond the real live mythology of the likes of Vulcan, Volos, and Lalahon, and got inspired by Arthur Lyman's 1959 The Legend of Pele which was the first concept album of exotica and features a percussion fever dream called the Cubana Chant, and the album title of Les Baxters' 1956 Tamboo! which is perfect onomatopoeia for percussion. Put both together and a new volcano god was born. Ironically, the term Cubenga can also be found in volume two of Charles Richmond Wallace' 1926 General notes on South Pacific island Groups. History proves us true.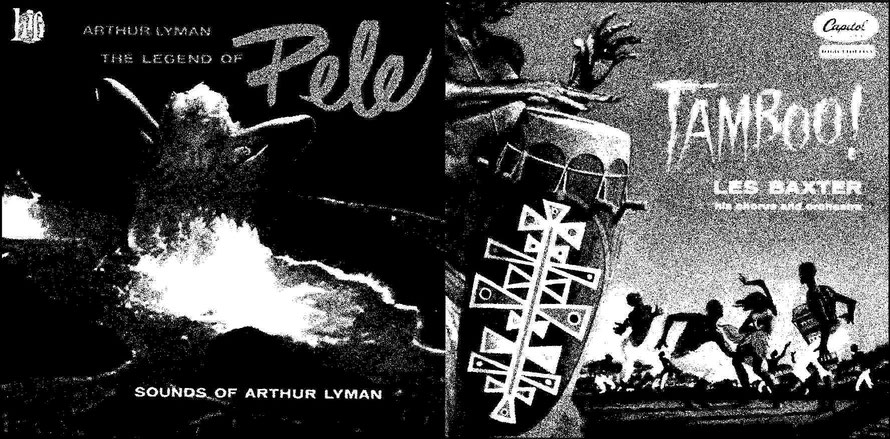 Contrary to popular belief, there are no voices featured on this track. Most of the unusual sounds found on this piece are made with electrified strings, springs, and other household objects (which means they had a piezo pickup glued to it). The repertoire of noisemakers grew exponentially during the making of this album. Even plants, radios and a didgeridoo were converted into synths. The piece grew around the basic melody of the saxophone which repeats three times throughout. Each time it is surrounded by the hungry chatter of noisemakers and grows more menacing each time. Ultimately the saxophone joins the chorus of hungry voices and becomes distorted and unrecognizable.
Roman Numeral No. 3 - Sheperd's Firth Infirmary
1) From the city to the corn in 19-Oh-1 (Organum Spirituale)
Dying is a horrible thing to do, even in a fantasy world of your own making. It is painful, but Cubenga has brought you back to your familiar surroundings. You are left to remember your life and reflect on what you have experienced on the destroyed island paradise. You come to senses and recall leaving the rat race of the city for a quiet life in the country. Tilling the soil with your own hands sounded like a good idea when accompanied by the sound of fingers hitting keyboards all around you. You recall with nostalgia how you declared your independence from your corporate overlords. And the house you were able to afford. You relive the moments, the good ones and the bad ones, you savor the experience. The smell of old wood that engulfed you when you bought the house. The hundreds of early morning coffees at your desk and the little brown stains they left on pristine paper. The face of your boss when you told him you quit. You remember the accident....
Notes:
From the city to the corn grew out of a very melancholic nirvana level of teenage angst bass line that J.H. played. We added all the familiar bells and whistles of teenage depression like the squealing hard rock guitars that you learn to love when you are thirteen and bands like Kiss, Aerosmith, and Led Zeppelin become your favorite bands, the post-rock sensibility you develop as soon as you realize that you want to be in a rock band, but do not want to be destroyed by fame and the country rock you learn to enjoy after making fun of your parents in your youth for listening to. To pay tribute to the rock origins of this little psychodrama the bass solo pays homage to Queen's Another one bites the dust, repeating the song's melody in perfect rhythm and increased speed.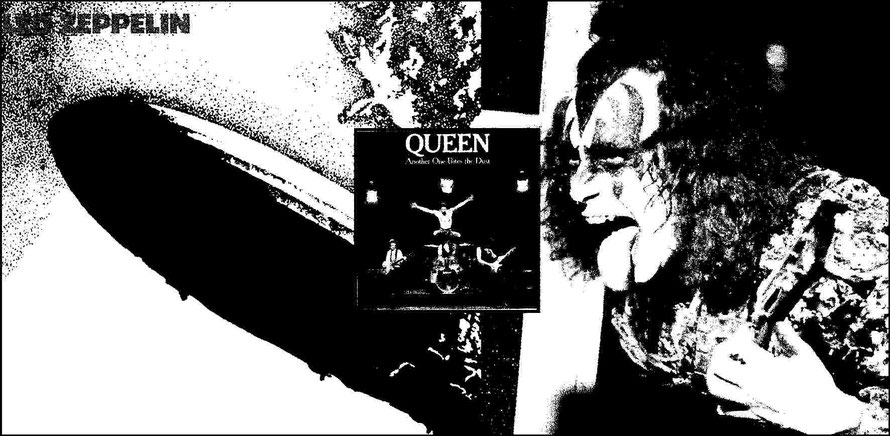 To us, rock music is home. It is the lens through which we see the world. Standing tall on a stage surrounded by obscure technology, spouting agile wizardry on phallic instruments, while high priestesses  cater to our never ending demand of tropical fruit and cool drinks. But even teenage nostalgia cannot hide the fact that rock music has fallen from grace in recent years. After decades of excess there has been nothing left, but tired clichés. It will never die, of course, but has receded, after a brush with greatness and all the horrors it brings, to a safe place to heal and grow.
2) Can't get no Hawaii (Heavy Eyelid Accident)
You remember, and reality hits you like a fist. You had an accident. The dunes of white sands you saw start to simmer and boil and reveal the bland facade of a hospital room. Beauty has graced you with a vision of another world to sustain hope in a dire situation. It has been months and you are still not healed. The car accident broke you. Shattered your dreams of country living and now you are back in the clutches of tyranny. Doctors circle you like vultures. Insurance companies demand ever-increasing amounts of paperwork for every penny they spend to treat your wounds. You want out, but you can't. You suffer the dark night of the soul.


Notes:
This piece is an interesting one, since it was made almost entirely out of tuning slides. The idea came when J.H. tuned his bass and something clicked. We recorded J.H. tuning his bass multiple times from the highest to the lowest note and edited those sounds into melodies and out of that grew a full track. Here and there the bass is accentuated by a regular bass for a necessary change in timbre as well as some noise to connect each movement to the next. The idea was to start with a strong melodic motive that over time degenerates and ultimately fizzles out. This worked particularly well, and set the stage for the final piece and conclusion of An Adoration in Prayer and Ritual. The video clip features familiar scenes of atomic bomb tests, that fit the mood quite well. We tried to cut the video to tell another story. People celebrating death and glorifying the moment of self-destruction. Others want to stop them, but ultimately it is too late, they burn in their twisted glory and achieve their goal. Anyway, that was the intention, but most people just see random pictures and ask us about the goat. What is the goat all about? Is the goat okay? Our official response is: Do you really have to ask?
3) Kissing Abigail at the Garden Gate (Sceneries of Decay)
Time marches on. You are doomed to die many times over in your to recovery. But one day, a day like every other, it is over. Bandages are lifted, casts removed, iron rods are lifted and you are free. Everything you knew is gone. The village-life you imagined being worth pursuing is gone. It is a new world and you are a new person to live, laugh and love with it. You understand and go out to find and kiss Abigail at the garden gate.
Notes:
In this piece we tried to get away from the drumming as we felt that it dominated the way we write music. Sometimes all it needs is a steady drumbeat to get things going, but we felt we relied on this method way too often. We switched things up by constructing a beat out of all the noisemakers, we have built during the recordings, which created this very Moondog, Henry Partch like feel in rhythm as well as sound. Once this mood was established everything fell into place. The weird guitar riffs found fingers to play them and the solo was recorded in one take. A magical moment that we felt would make a nice closure to the album, especially after the oppressive darkness of Can't get no Hawaii. The video clip for this song shows a dying village. Life becomes impossible, too many people have left. Empty churches, eroding buildings, a rotting waterfront and a lot of empty pockets. Many people left without raising an eyebrow. Only few people understand why things happen the way they did. And only a handful of people and their nostalgia are left to lay the village to rest. Each of them remembers the good times they had in this place, puts a flower down and leaves. Although, we feel that the music perfectly accentuates the images the video has been criticized for being gay, as it depicts men picking flowers. We can only say: It won't happen again. We have eaten all our burgers and have seen the light. We promise to do a Night Ranger cover in the future.
Credits:
Produced by K.T. Korb | Recorded at the Primate Compound, Mt. Pleasant | Recording Engineers: Jim O'Brian, Brandan Scott |Mix Engineer: Sylvia Fischer | Mastered by Franz Sterling at Sterling Sounds, Pearl City, HI | Desgin: Anatomy of the Heads and M. Wohl | Special thanks to: Sabine F. Judge and Aaron A. Anderson
Released by: Hyperbeast Records MMXVII